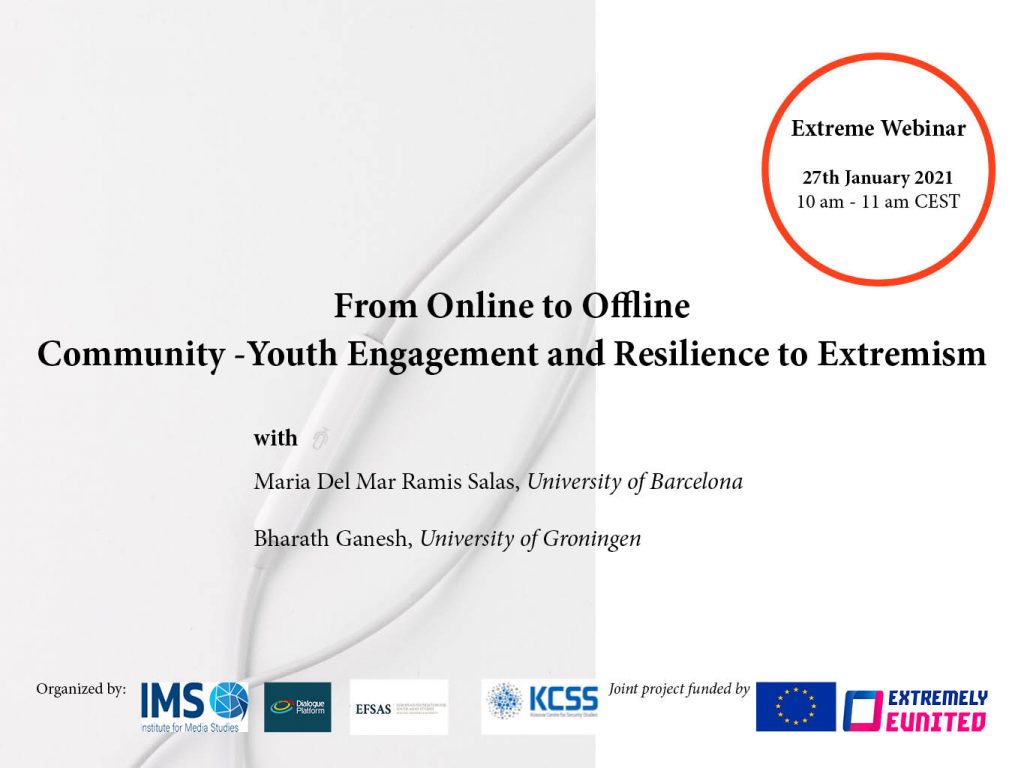 Registration : https://docs.google.com/forms/d/1uY9Nip0UreXVIllmLmLlpBWQSqo0BSt–AaorCkDoJw/prefill
Many western governments develop efforts and initiatives, support programs to respond radicalisation which is commonly referred as Countering Violent Extremism (CVE) or simply prevention. The literature on CVE has grown rapidly in many fields and disciplines, from psychiatry to criminology. Each discipline with its specific framework and perspectives has its own approach through which prevention and de-radicalisation measures are addressed. For example, in social care, the focus is given to community engagement, while in psychology the individual micro level is prioritised. Hence, the variety approaches between disciplines and fields limit to find a coherent, shared policy on prevention and de-radicalisation. This webinar will look at two crucial elements in radicalism debate: online prevention and community resilience. Speakers will discuss the policies regarding the prevention, the resilient individual, community by focusing on various aspects.
Speakers
Mimar Ramis, PhD. in Sociology is Lecturer at the Sociology Department of the University of Barcelona. She has participated in European Framework Programmes of research such as FP6 INCLUD-ED Project, FP7 IMPACT_EV and the Horizon 2020 PROTON project on Modelling the Processes leading to Organised crime and Terrorist Networks, among others Her field of expertise includes the work with migrant and minority communities in the promotion of the conflict prevention and resolution from an approach that focuses on the social impact of research. She has published in high ranked scientific journals such as PloS One, Children and Youth Services Review or Qualitative Inquiry on topics such as the prevention of violence, of extremism, and of minor sex trafficking, and the importance of social impact in research. 
Bharath Ganesh, prior to joining the University of Groningen, Bharath was a postdoctoral researcher at the Oxford Internet Institute (OII), University of Oxford.
Bharath completed his PhD in Geography at UCL in 2017, funded by the Bonnart Trust (www.fbbtrust.org.uk). From 2014 to 2017, he was also Senior Researcher at Tell MAMA (www.tellmamauk.org), a British charity that monitors and supports victims of anti-Muslim hate crime. Bharath has commented widely on issues related to disinformation on social media, Russian involvement in the 2016 United States election, hate speech, and the radical right in the UK Houses of Parliament, United Nations, and international media outlets. His recent publications have appeared in journals including the Journal of International Affairs and European Societies. 
Moderator
Skender Perteshi, is a counter-terrorism/countering violent extremism analyst and researcher at the Kosovar Center for Security Studies (KCSS). He is the author of numerous research reports related to security topics, and he has worked as senior associate and consultant on security issues for many international and local organisations, including Finn Church Aid Foundation–Helsinki, Royal United Services Institute (RUSI), International Organisation of Migration (IOM), OSCE in Kosovo, MOONSHOT consulting company in London, Resolve Network USA and others.